BRAIN TRAINING SUMMER CAMP
6 hours per day, 5 days per week for 6 weeks
Brain Training Summer Camp
The Brain Training Summer Camp is a 6-week rigorous brain training program that targets the Symbol Relations cognitive function, a critical function of the brain that affects all aspects of learning and life. It improves brain connectivity and improves the ability to think and learn. Strengthening the Symbol Relations ability means you'll have a more powerful and positive capacity to process information and engage with the world.

The Brain Training Summer Camp is available as an In-Person program.
The Brain Training Summer Camp utilises The Arrowsmith Program™, which improves the capacity to develop skills related to: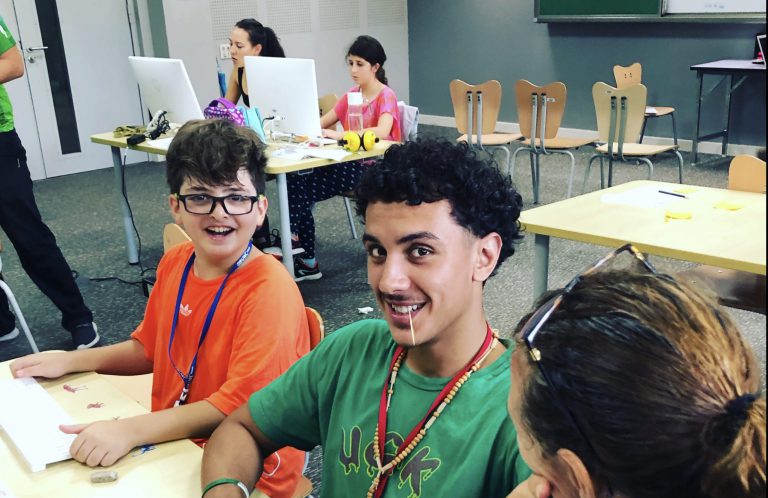 The Brain Training Summer Camp requires 3-4.5 hours per day of computer based training exercises (depending on age), 5 days per week for 6 weeks. The program focuses on strengthening brain functions that are responsible for higher order reasoning, problem solving and processing abilities. The camp also includes outdoor activities to balance the days.
Please contact us if you have any questions:
The cognitive training exercises in the Arrowsmith Program™ have been refined over the past 4 decades. Since 1997 there have been more than 20 research studies involving some 700 students across six universities and nineteen different educational organizations all evaluating the effectiveness of the Arrowsmith Program™. Five of these studies have had control groups and eleven have been peer reviewed. There are another four research projects currently underway at three universities.

The research involves Neuro-imaging and Behavioral studies using multiple designs recommended by the American Psychological Association. Significantly they all show very similar results– that the methods used are effective to improve student learning.

Studies show that the Arrowsmith Program™ training exercises lead to structural and functional changes in the brain as well as significant improvements in academic and cognitive measures. Significant improvements were measured in comprehension, mathematics, vocabulary, processing speed, attention, cognitive efficiency, reasoning, and working memory. Participants and their families report better mental health, emotional resilience, and a more positive self-concept.

The first step in the application process is to submit an Inquiry Form. The Inquiry Form will allow us to start to understand how we can best meet your needs.
Once the Inquiry Form is completed, our admissions team will contact you to discuss your needs. This may include a video call.
Once we have an understanding of how we can best meet your needs, we'll send you an Application Form to collect important details. After this you will be ready to start your brain training!
Life-Changing Experiences
The Arrowsmith Program has changed my life. It's amazing. It's like information can now get into my brain. I understand things better and I can see things more clearly...I now enjoy reading. I use better words and my thoughts flow without having to think. I am more calm and capable. I can recognise and read people's emotions a lot better. I can communicate better and I have a better relationship with my family...It's like I was living in a fog and since Arrowsmith the fog has lifted.
The Arrowsmith Program has allowed me to explore possibilities that I thought previously closed to me...I used to feel like I didn't have control over my future. I was very reactive and had a lot of bad habits. Arrowsmith has improved my ability to understand the perspective of others and communicate more openly. I can see things in a new way and I feel less frustrated because now I can understand the situation. I now have the ability to talk to people. I now am able to set goals and see what I need to do to get there.
The Arrowsmith Program has given me the ability to think faster and think more clearly. I moved [to Phuket] from Singapore to take the program...I have lived with learning disabilities my whole life, this is finally my chance to make things better...It is hard work but it is worth it.